News
New photos by Mejrema Reuter added
New photos by Ivana Ivanovic added
Day six
It is difficult to find the right superlatives to describe Israel's Shahar Jacob's stunning performance in this year's championships here in Trogir. Some of his competitors are bigger and more muscular but he is clearly stronger. Some are lightning quick about the boat but he is faster. Some are tactically intelligent but he somehow seems to be yet more clever. In twelve successive races he proved to his fellow competitors and to those of us who were watching him in admiration that this is a young man with the brightest of futures as a competitive sailor. His crown as male world champion for Laser 4.7 in 2008 is thoroughly deserved.
How interesting it will be in four year's time to read through the lists of Olympic competitors and hunt down the names of those who have just competed here in Trogir. I have little doubt that Shahar's name will be there, as will that of Scott Sydney from Singapore. Scott has a way of using his power and height to ride the wind with real elegance and his runner-up placing in this year's championships surely marks him out as a great medal prospect for London in 2012. Bravo to him and bravo again to the enlightened government of Singapore for their far-sighted support to promising young athletes.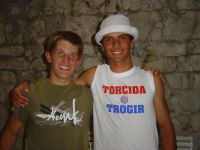 I have to admit to some stirrings of patriotic pride. Croatian competitors have performed exceptionally well in this year's competition. When you look at Lovre Perhat walking down the street you see a bright, outgoing, sociable and relaxed young man. When you see him in action on the water, his face set in rock-hard concentration, you see another side to him – absolutely determined, hungry for top placings, completely focused, ruthlessly competitive and not to be distracted. His third place overall in this year's world championships, as well as a hard-won and thoroughly deserved fourth place from his compatriot Toma Visic, augurs well for Croatia's future medal prospects and we shall watch the development of these two promising prospects over the next few years with much interest.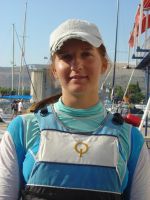 My patriotism is fed further by the performance of the Croatian competitors in the girls competition. Antea Kordic and Matea Senkic, who came third and second respectively, demonstrated without doubt that Croatia has the potential for world-beating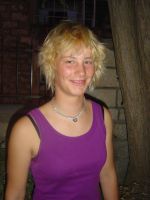 performances in future women's international events. Third and second in a world championships of this size and against this kind of competition is an outstanding result for the girls themselves and for Croatian sport in general. These exceptional girls now need to be encouraged and funded to develop their obvious potential and take their rightful places on the world stage. For whatever reason – whether it be the long tradition in Croatia of sailing success or society's approval of sailing as an attractive and suitable sport for young people (or maybe it's just the weather…) – young Croatian sailors are showing that this country has potential world-beaters if they are given the right support.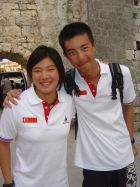 There are lessons to be learned from Singapore, one suspects. What better example exists of the success of a government-sponsored development programme than the exceptionally talented and skilful Elizabeth Yin? Identified as a future prospect whilst still very young, given the facilities and training to develop her abilities and now – world champion in Laser 4.7 at the age of 17. A magnificent success story and a performance to be proud of. Many congratulations to Elizabeth herself and to her coaches and supporters.
The closing ceremony managed both to be a slightly sad occasion – with so many friends wishing each other goodbye until the next time and a sense that the party was nearly over– and an exuberant and sometimes somewhat raucous celebration of youthful high spirits and patriotism. Flags waved, klaxons sounded, cameras flashed and cheers rang out as the award winners climbed to the stage and were presented with their prizes.
Mihovil Dekaris, President of the Trogir Sailing Club, together with distinguished guests including Mayor Vedran Rožić, sailing legends Josip Geic, Milovan Domjan and Vasilij Žbogar (bronze medallist in Athens 2004 and silver medallist in Chingdao a few days ago) presented the awards to the competitions outstanding winners. In a touching part to the ceremony disabled sailing legend Sutjesko Rožić handed over the competition flag to a representative of the next championship host Bruno Marks from Buzios, near Rio in Brazil, accompanied by the beautiful voice of AnaMarija Kurolt singing I am Sailing.
What a week this has been… Six or seven hundred people representing 43 countries have worked, played and competed together in harmony. What better illustration could there be of the power of sport in promoting mutual understanding and respect between people of different nations, religions and cultures?
Lastly, and I hope competitors agree, I think Trogir and its citizens have risen to the occasion and done a good job. As Jeff Martin, Executive Secretary of the ICLA, pointed out – this is one of the largest and most complex sailing competitions in the world. The hundreds, if not thousands of hours of hard work put in by the organisers and their teams of volunteers have paid off. It's now time to browse through the photo gallery, remember the exciting young people we have met and whose company we have enjoyed and look forward to the excitement of future events.
Mejrema Reuter
Day Five
As everyone who reads these daily reports will probably already know, one of the wonderful things about sailing is its unpredictability. Throw a bit of blustery wind and restless water into the equation and the form book goes out of the window. Most of the day saw perfect racing conditions consisting of a maestral of 12 to 20 knots. However, a sudden tramontana from the NW, a swing of 600, called for a radical change in race plan and the second boys race was interrupted, the course was changed and after a scheduled delay of an hour the race re-commenced.
For the first four days of racing I haven't even mentioned local boy Lovre Perhat. He was a respectable 15th overall on day one but a little below my radar. But then what happened? Lovre started a quiet but determined ascent up the leader board without my noticing - to eighth, to seventh, to eighth again and then today a top quality performance to leap up to third overall after the boys Gold races. In a technically difficult day when even the best competitors in the world struggled for consistency because of the course changes, Lovre managed a very creditable second and seventh place in his two group races and also just managed to overtake his able compatriot Ante Botica on the overall scoring tables. Ante's coach, Tudor Bilic, was full of praise for his young sailor, who has been sailing in this class only since last September.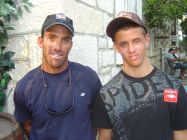 Shahar Jacob's first race was, by his elevated standards, a problematical one which the rules allowed him to discard, but in his second group race and despite the course changes he again demonstrated his superiority with a powerful second place. This leaves him stretching his lead at the top of the table to a seemingly unbeatable 15 points. To have scored only 11 points after ten races is truly remarkable. Bravo to him.
Scott Sidney had a mixed day and was also grateful for the opportunity to discard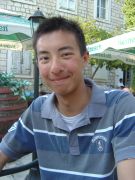 his place way down the field in his second group race, but his solid eighth place in race one helped him improve his overall position from third to second.
It looks like we might be heading for something of an exciting photo finish in the girls race for gold. Elizabeth Yin from Singapore, who was hard on the heels of Croatia's Matea Senkic, managed to slip past her today after the girls gold races with a very strong first place followed by a solid ninth. Until tomorrow at least, she heads up the leader board with a six point advantage.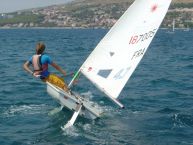 Matea Senkic had a slightly trying day with a respectable eighth place in her first race but a (thankfully discarded) 28th in her second group race. With only two more races to go, weather permitting, it looks like we are in for an exciting end to the competition.
Spain's Patricia Coro Leveque, who lies in third place after her two races today, was according to her supportive father more than happy with her performance today. I'm not surprised - second and fourth places today in technically difficult circumstances deserves to be applauded. Patricia now has a good chance of being on the podium in the closing ceremony tomorrow.

So, we're down to the final stretch in this exceptional competition. Tomorrow looks to be an intensely competitive day with victories and disappointments in plenty. I look forward to being out on the water and seeing it all unfold before me.
Mejrema Reuter
Day Four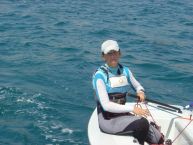 It really couldn't be much closer at the top of the female race leader board. After an exciting day's racing under sparkling weather conditions, Croatian girl Matea Senkic hangs on to her overall lead by a single point over Singapore's impressive Elizabeth Yin. Matea took a strong second in her first race and scored a ninth place in her second race – still a top ten result that many would be proud of but, under the scoring rules, she is able to discard that result and retain her overall lead with only 18 points.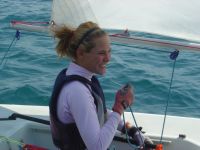 Elizabeth, on the other hand, had a slow start to the competition on day one, and has thus far chosen to discard her first race result of 11th place, so couldn't afford to slip up today. She didn't. She blasted the competition, demonstrated real quality and won both her group races in fine style, coming in with 19 points and opening up a considerable gap in the results table over the determined and skilful Croatian Kasia Kurtin who moved up from fourth to third place overall.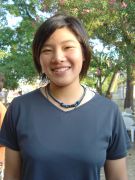 Elizabeth is an interesting and charming girl. In Chinese culture the number 8 is considered to be lucky and perhaps it is no coincidence that Elizabeth is on a winning streak. Her birthday fell on the 8th day of the 8th month this year – the same day, of course, as the opening ceremony of the Olympic Games in Beijing. Her dream is to become an Olympian for her country and she seems to be well on the way to achieving it. She amusingly recalls being terrified when she was first put into an Optimist surrounded by large waves and strong wind, and remembers once being half-smothered by someone else's sail when they capsized onto her, but she survived these early traumas and began to emerge as one of Singapore's most successful young sailors in the Optimist, Byte and Radial classes.
Interestingly, the Singapore government has an imaginative and praiseworthy programme called TAP – the Talented Athletes Programme – which provides funding for equipment and competition expenses for the most promising young sporting prospects in the country. Singapore will host the 2010 Youth Olympics and has sent two of the youngest competitors in this event, Najwa Jumali and Mark Wong here to gain experience. Elizabeth, already a recognised achiever, was asked to compete in these Laser 4.7 championships, an unfamiliar class for her, only three weeks ago and happily accepted the challenge. She has sailed competitively in Italy, Bermuda, Germany, France, Denmark, Australia and New Zealand, as well of course as in Singapore, but so far the results here in Croatia have been her personal best. And the secret of her success? Her Grandmother's chicken soup and poker lessons from her Scottish coach, Mark Plummer!
What more can one say about Shahar Jacob? He continues to show real class, phenomenal potential and a maturity beyond his years. In his two races today he again dominated the field, scoring a second and a first place to draw four points clear of Greece's Nikolaos Chrisos.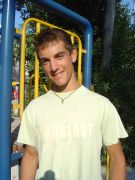 Nikolaos is himself is proving to be a competitor worth watching, having scored four first places in his group races so far and clearly demonstrating noteworthy strength, technique and speed. When he was seven years old his father's friend showed him a sailing video and it was love at first sight despite the fact that his introduction to his first Optimist was rather uncomfortable. He recalls that it was January, it was cold, it was windy and it was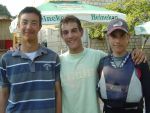 terrifying. His love for the sea and sailing grew, however, and he started to become successful in what has, particularly since the Athens Olympics, become and intensely competitive field. Christos Chionas, a well-known coach from the Piraeus Sailing Club with a good track record of trainee successes in Olympic and World Championship events, puts Nikolaos's success down to his hard work and keen ambition to improve.
Nikolaos looks forward keenly to tomorrow's Gold Group competition when the leading competitors will go head to head, as does Scott Sidney from Singapore who finds himself third on the leader board after an impressively consistent set of races thus far. Scott tells me he was never very good at sports that involved a ball and therefore, on the suggestion of his uncle, he took up sailing, knowing that a ball would be unlikely ever to come near him. Despite the fact that Singaporean sailors often do their training in severe weather conditions he loves the safety and security of life in Singapore, a place where an aspiring sportsman can grow not only in his chosen sport but also in his broader education for life.
He would like to pursue his studies in finance but, like his colleague Elizabeth, poker skills apparently play an important role in his development. The Mark Plummer training methodology clearly works. We expect a book any day now…
The finals start tomorrow and it couldn't be more exciting. Will Matea Senkic give herself the birthday present she wants and score a victory? Or will the fact that the 28th August contains an eight tip the scales in favour of Elizabeth Yin? Will Chrisos narrow the gap to Shahar or will Scott find an ace up his sleeve?
Mejrema Reuter
New photos by Jeff & Keld added

(28.08)
Provisional results after 8 races added
(28.08)
Day Three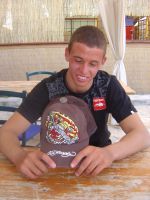 On day three I have finally caught up with the extraordinary young man who had won four races out of four in the first two days of the competition and who is still in overall lead after the third day. His name is Shahar Jacob, sixteen years old and he sails with the Sdot-yam club in Israel. He began sailing Optimists at ten and moved to Laser 4.7 three years ago. In the traces of salt on his face when I interviewed him immediately after the race one could see how much effort and determination he puts into his competitive sailing. Shahar's coach, Erez Eliahou, who has worked with him for four years, confirmed that grit and determination were Shahar's principal qualities.
Shahar is aiming for the top. He sees himself as an Olympian one day and is prepared to put in the work to make sure that happens. He is already regularly sailing competitively in Laser Radial class and is thirsty for more experience. In particular, because in Israel racing fleets are not as big, he is anxious to familiarise himself with competitive starts with larger numbers of boats.
For Shahar sailing is a way of life. He feels that it has given him strategies for overcoming difficulties in life with calmness, intelligence and fortitude.
Maintaining his impressive record of achievement thus far in the competition, Shahar managed second in his first race today and fourth in his second race, leaving him two points clear at the top of the leader board. Hard on his heels is Chrisos Nicolaos from Greece who scored victories in both his group races today and lies second overall with 8 points. Sidney Scott from Singapore scored consistently well again today and finds himself in third overall with 14 points.

Giovanni Coccoluto from Trieste in Italy has now moved up the rankings to take fourth overall with 20 points.
In the female competition, Croatian Matea Senkic has maintained her impressive run in the competition so far and today's excellent results of first and fourth in her two group races assures her position at the top of the leader board with 11 points. Her birthday, the day after tomorrow, could well bring her the well-deserved present of yet more high-scoring performances but she will have to maintain her consistency and drive to hang onto her current six point lead. Hoping to reduce that and indeed overtake Matea if at all possible is Singaporean Elizabeth Yin who triumphed in her first race today and scored a solid ninth in her second race.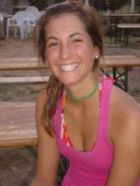 A now familiar face towards the top of the leader board, and only two points away from Elizabeth, is Spain's 16-year old Patricia Coro Leveque from Cadiz in Andalusia. Patricia is Spain's national champion in Laser 4.7 and a force to be reckoned with. It is remarkable that she only began sailing Laser 4.7 a year ago. She trains four days a week on the sea and in the gym. When asked what she found most difficult here in Croatia, she thought hard and then explained that she loved almost all aspects of what she had seen in Croatia except one thing – wasps.
Local girl Kasia Kurtin has had an exceptional day with two top-ten finishes in her group and finds herself fourth overall with 26 points.
Stepping away from the leader board for a moment, it was gratifying to be able to chat with a number of competitors crowding around the results board, anxiously trying to find out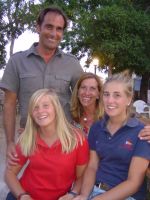 how they had done. My attention was drawn to an extrovert and cheerful group of Spanish visitors, amongst whom was young Olimpia Corral and her bubbly family from Majorca – Mama Maria, Papa Miguel and Sister Miranda. Olimpia is a mature sixteen year-old ranked second in Laser 4.7 in Spain who believes she should try to combine her studies with her passion for sailing and achieve the best in both. Clever girl.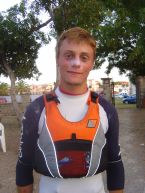 I also had a chat with outgoing and charming Carlos Ferrer from Ibiza who had scored an impressive second in one of his races today. Carlos has competitive sailing in his blood. He started with Optimists at the young age of seven and came to the Laser 4.7 class at fourteen.
"I was extremely lucky today" Carlos said. "At the last moment, right at the finish, my opponent from Qatar, Waleed Al Shashani, somehow lost momentum in the last few metres and I managed to squeeze through ahead of him."
Later on I talked to Waleed and his coach, Peter Lester from New Zealand, to try and comfort them. Peter summed it up with a typical Kiwi twinkle in his eye.
"Have you ever seen anything like this before?" I asked.
"Unfortunately, yes I have – but, hey, that's sailing…" he said.
Mejrema Reuter
Provisional results after 6 races added (26.08)
Day Two (25.08)

Conditions for racing in day two turned out to be excellent – a consistent Maestral wind of around ten knots ensured that six groups sailed two races each for the day were conducted in optimal circumstances.
Impressively consistent high quality performances over the first two days have been seen from Jacob Shahar from Israel and Sidney Scott from Singapore. They were joint first overall at the end of the first day, having won all their respective races and therefore scoring only two point each. Showing terrific skill and determination as well as technique and raw speed Jacob brilliantly took first place again today in both his races and remains well ahead overall with only four points. Sidney, with a solid fourth and third in his two races

today showed that he was someone to be reckoned with and holds on to second overall with nine points. Chrisos Nikolaos climbed up the leader board to third overall after an impressive victory in his group's first race and third in his second race, scoring ten points. 15 year-old local contender Ante Botica retained his hard-won fourth place at the end of day two with a score of 21 points.
Matea Senkic retained her overall lead in the female group having scored a fifth place in the first race of the day and taking top position in the second, resulting in an impressive score of 11 points. She is now four points ahead of Spanish competitor Patricia Coro Leveque who, by coming sixth in the first race and second in the following race, scored 15 points and improved her overall position from third to second. Elizabeth Yin from Singapore moved up to third overall with her 18 points and Antea Kordic from Croatia, who had been second overall on day one, had a difficult first race today but hit back with an impressive victory in race two for her group and remains a promising fourth overall with 25 points.
Fingers remain crossed for equally ideal racing conditions tomorrow.
Mejrema Reuter
25.08. photo gallery by Ivana Ivanovic (25.08)
Provisional results after 4 races added (25.08)
Day 1 of the competition got off to an exciting start with blustery winds leading to quite demanding conditions for the competitors and often calling upon the organisers to think on their feet to ensure that the course had been set appropriately.
Over a well deserved meal after the race, Australian team members Taylor, Ashlie, Caitlin and Sasha described the racing conditions as quite challenging but on the whole satisfactory. They had sailed two races in two different groups, yellow and blue.

They were enthusiastic about Trogir as a venue for the event and even claimed it was their favourite destination so far. They were all looking forward to improving their performance in the days to come.
There was good news of success for the host nation when Croatian girls Matea Senkic and Antea Kordic took first and second place in the first day's races.
Matea, having achieved first place in the first race and fourth in the second race of the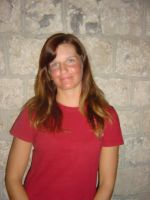 day now heads the leader board. She comes from Zadar and trains with a club called Uskok where she began sailing at the age of nine in the Optimist class. For the past year and a half she has been sailing Laser 4.7 and achieved a commendable fourth place overall in the last world championships in South Africa and first in the category of those born in 1991. She studies at the Sports High School in Zadar and her dream is to become a professional sailing competitor. Her idol is Pavle Kostov, another Zadar sailor who is currently in Beijing.
"The most difficult part of sailing competitions for me" she says "is to continue to lead from the front throughout the competition but I also believe I should always sail absolutely fairly. I can't sail any other way but I hope and believe this will take me to the top."
Matea believes that focus and concentration were crucial for today's success. "The wind was constantly changing intensity and direction but I managed to keep up with the changes as they occurred. Luckily I like to sail with strong winds so the conditions suited me."
Matea's coach, Robert Sandalic, also mentioned difficult winds and oscillations on the course but applauded Matea's excellent start and credited her success to her exceptional determination. "She must now remain calm and continue to give her best. Each point in each race is important. Matea should continue to show her developing maturity and sportsmanship as she heads towards senior competition level."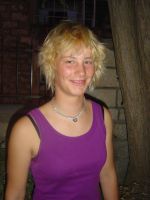 Second overall after the first day's competition, Antea Kordic from Split, began sailing at ten and became national champion in Optimist Class in 2004. For the last two years she has been sailing Laser 4.7 and this is her second world championship. Her best result so far was third overall in the European Championships in Ireland.
When I went to shake her hand I discovered that she had a huge blister next to her thumb. Naively, I asked her why she didn't wear a glove when sailing and she looked at me with disdain and said "Have you ever seen a real sailor wearing a glove?" I changed the subject quickly….
Antea has made a lot of friends through sailing but she doesn't confuse friendship with weakness when it comes to competition. "On the land they are my friends but on the sea I shall show them no mercy at all" she laughed. She also mentioned the day's tricky conditions but, just like Matea, she also favours strong winds and her coach, Aleksandar Jocic, confirmed that Antea had been training very hard for the past year and had developed the self-confidence needed for success in all phases of the race, especially the start. "Antea has a good sense for finding the right line and starting precisely. She is heading for higher levels of sailing. She's learning to prioritise and sound racing techniques."
Let us hope day two will be equally challenging and exciting.
Mejrema Reuter
24.08. photo gallery by Ivana Ivanovic (24.08)
Provisional results added (24.08)
Opening ceremony photo gallery by Ivana Ivanovic (23.08)
Opening ceremony photo gallery by Mejrema Reuter (23.08)
The Opening Ceremony (23.08)
Kamerlengo fortress has never been so full – full of young people, full of cameraderie, full of positivity and full of fun. An extraordinary set of friendships was launched. As each country representative came forward with their national flag, energy levels grew higher, young faces were exuberant and excitement filled the air. The multitude of flags from 43 countries made this unique and historic setting even more like a Renaissance festival than usual.
One of Croatia's most recognised baritones, Jakov Koščina from Trogir, used the majesty of his voice to sing Croatia's national anthem.
Mihovil Dekaris, the President of the Trogir Sailing Club and principal organiser of this event, greeted the hundreds of participants, trainers, parents and support teams with warm words of welcome and encouragement for participants not only to demonstrate their talents and skills but also to use this rare and precious opportunity for the formation of new and lasting friendships. He was particularly pleased that Trogir Sailing Club had been delegated the task of organising these championships because this year marks the sixtieth anniversary of the founding of the club.
Jeff Martin, the Laser Executive Secretary for the International Laser Class Association, inspired the young competitors with wise words on the theme of sportsmanship and the future of sailing. He referred to the current Beijing Olympics and future events in 2012 and 2016 to illustrate how sailing was, for many, a lifetime occupation and not just a single short-term event. It was gratifying to see that someone of his experience in international sailing competitions was impressed with the way these championships had begun here in Trogir.
The atmosphere became even more charged with the arrival of Trogir's very attractive young cheerleaders from the Doksa Sports Dancing Club who performed to much applause from an appreciative audience.
As the opening ceremonies headed towards their conclusion, the mayor of Trogir, Mr. Vedran Rožić, added his own enthusiastic words of welcome and was clearly proud of Trogir's status both as a UNESCO world heritage site and as a fascinating venue for a range of cultural and sporting events.
As he declared the world youth sailing championships for Laser 4.7 officially open, Mario Škrlj – one of Trogir Sailing Club's most celebrated members – raised the official Laser flag. The flag raising ceremony was accompanied by the magnificant voice of AnaMarije Kurolt singing 'The greatest love of all', dedicated to all the event participants.
The celebrations continued with an exciting Latino Show dance by the Cimbal Dance Studio and everyone moved off for a party reception in the garden of the regatta office nearby.
As competitors and guests drifted back to their various accommodations to rest up in preparation for the first race on Sunday, the fortress of Kamerlengo returned to its customary silence, waiting patiently for the return of its flag-bearing sailor friends at the end of this exceptional competition.
Mejrema Reuter
Photo gallery from 22.08. added by Mejrema Reuter (22.08.)
Photo gallery from 20.08. added by Mejrema reuter (21.08.)
Preliminary sailing area (21.08.)
GALERIJA PRIJATELJA
POLJSKA
Upeklo je sunce na Solinama i svi bježe u hlad ali ne i dvije natjecateljke iz Poljske Joanna i Eva. Pažljivo spuštaju brodove u more i još k tome na odličnom engleskom pričaju da su prvi put u Hrvatskoj. Kada su iz automobila vidjele pogled na Trogir kažu da im se oduzeo dah. Doputovale su sa trenerom Michalom Skaliszom i Evinom mamom Anom koja im kuha i pomaže u svemu, koliko vidim. Joanni je ovo prvo internacionalno natjecanje i jako se raduje. Ima 15 godina i ovo joj je tek druga godina u klasi laser 4.7. Eva je sedamnaestogodišnjakinja i dolazi iz porodice jedriličara. Tata, djed, stric...Gledam ih kako jedre prema Šaldunu kao da su kod kuće, kao da to rade svaki dan. Sigurne, lijepe, pristojne i hrabre su ove poljske sportašice. Svaka čast!
AUSTRALIJA
Između jedara oko mene govore se različiti jezici. Pažnju mi privlači djevojka koja pripremajući brod s jedne strane govori engleski sa jakim australijanskim naglaskom a onda okrene glavu i nastavi na talijanskom. To je Martina. Jedri za reprezentaciju Australije ali je rođena u Italiji. Ona i Zac su iz Pertha i jedre u ovoj klasi dvije godine.
¨Jedrenje nas je puno toga naučilo¨, pričaju mi ovo dvoje nerazdvojnih prijatelja. Samopouzdanje i odlučnost spominju kao najvažnije odlike koje su stekli zahvaljujući ovom sportu. Divim se zrelosti koja izvire iz ovih tinejđera. Vidim ih prvi put ali unose u moj život veselje u saznanju da ipak postoji zdrava mladost s kojom se eto može popričati o svemu a da nitko ne odgovara sa onim... šta ja znam...ne znam...otpuhujući i kolutajući očima...Veselo me pozdravljaju jer i njima se žuri da odjedre prema Šaldunu a u pripremi je i najmlađi predstavnik Australije, trinaestogodišnji Joseph, koji u pratnji svoga tate Roberta inače bivšeg reprezentativca Velike Britanije u jedrenju mirno čeka na našeg Milana Vujasinovića, jedriličara splitskog Labuda, s kojim su se sprijateljili još u Australiji gdje su mu pomogli oko nabave i opreme broda a sada on pomaže njima. Lijepo je vidjeti ovo prijateljstvo triju jedriličara da dva kontinenta gdje se u nekakvom šutljivom nastojanju trude da mladom Josephu olakšaju tremu i nesigurnost mada nitko o tome ne priča. Joseph tiho priznaje, ¨volim jedrenje jer je svaki put drugačije, bilo bi lijepo kada bih mogao jedriti oko onih prekrasnih otočića koje sam vidio iz aviona¨.
VELIKA BRITANIJA
Oko nas mirno sjede, nekoga valjda čekaju i predstavnici Velike Britanije. Trebalo bi ih doći trideset i troje kaže mi jedan od tata. Njih osmero mi se predstavlja i u jednom su vrlo složni. Maestral koji nas upravo malo hladi im savršeno odgovara za njihov način jedrenja. Pričamo o meteroloigiji, dakako, a o čemu će Britanci nego o vremenu. Ova djeca su tako koncentrirana na ono što rade da se ne mogu načuditi odakle im ta samodisciplina. More opet pobjeđuje, nauči djecu prije nego svi drugi.
SAN MARINO
Vijore pored mene dva jedra. Jedno pripada Matildi koja je ovdje došla trenirati u društvu najboljih, objašnjava njezin trener Marco a Giulia će se natjecati i jedina je predstavnica ove male državice. Počela je jedriti u osmoj godini sasvim slučajno a onda se oduševila tom slobodom kretanja, druženjem sa prirodom i jedriličarima. Voli se i natjecati. Očigledno ju je očarala i ljepota našega mora. ¨Dijelimo isto more, Adriatik, ali naše more nije tako lijepo kao ovo ovdje. Naš je Adriatik zagađen prljavim industrijskim i otpadnim vodama. Bilo bi lijepo da nije tako.¨ Giulia priča elokvencijom nekog profesora. U govoru joj nema niti jedne poštapalice. Drži se uspravno i u isto vrijeme opušteno. Osmjehuje se blago i nastavlja priču o jedrenju koje ju je naučilo da misli na druge i da uvijek ide naprijed. Samo naprijed.O postignutim rezultatima sa prijašnjih natjecanja ništa ne spominje ali doznajem od trenera da se radi o izuzetnoj sportašici.
Tko ju li je naučio ovolikoj skromnosti?
TURSKA
Izvlače brodove iz mora trener Ismail iz Turske koji nije trener nacionalnog tima već privatan trener dvoje mladih, djevojke Beril i momka Leventa. Ujedno pomažu i talijanskoj ekipi. Svi se druže, svi imaju beskrajno strpljenje. ¨Moj je djed Martinović!¨,veselo objašnjava Ismail,¨došao je prije 80 godina u Tursku. Ja znam malo hrvatski ali samo malo¨. Ne želim ga još dodatno mučiti sa padežima pa se obraćam petnaestogodišnjoj Beril koja je po prvi put otputovala van svoje zemlje i ujedno će po prvi put zajedriti na internacionalnom natjecanju ovog kalibra. Počela je sa jedrenjem u ljetnoj školi jedrenja u lokalnom klubu i zavoljela je to druženje sa morem, suncem i vjetrom. ¨Jedrenje odgovara mojoj prirodi i pomaže mi da vjerujem u samu sebe. Jedva čekam prvi start. Onda će sve biti puno mirnije. Do tada u meni raste veliko uzbuđenje.¨
Levent je jedrio na očevom brodu ali onda je htio to probati i sam. Stoga se uputio u svoj lokalni klub i poceo vrijedno trenirati. Najviše voli napredovati. Prepoznavanje i reagiranje u skladu sa promjenama pravca i vjetra su po njegovom mišljenju formula za brzinu koja je naravno u natjecanju najbitnija komponenta. Voli usavršavati tehniku jedrenja. Tako govori prvak Turske u klasi Optimist. A što li će tek napraviti u ovoj klasi?
JAPAN
U nemogućnosti verbalne komunikacije preostaju nam izmjene osmijeha kao univerzalnog sredstva poštovanja i dobrodošlice.Sa moje tri i po riječi japanskoga ne uspijevam baš puno više doznati o našim prijateljima iz Japana. Gledam ih kako spretno barataju jedrima u ovom njima nepoznatom moru koje vrlo brzo postaje prijatelj.
ITALIJA
Giovanni Coccoluto. Zapamtite to ime. Taj će petnaestogodišnjak po mom skromnom mišljenju daleko dogurati u jedrenju. Imao je samo pet godina kada se sam odvažio na more u Optimistu u rodnom Trstu za čije neumorne bure svi znamo. Nitko ga nije uputio u jedrenje. Ni tata ni mama. Sam je htio. Sviđa mu se veliki vjetar. ¨Oslobađa me svake tenzije. To nijedan drugi sport ne može za mene napraviti u tolikoj mjeri¨. Imam dojam da pričam sa filozofom. Ovaj mladić priča o jedrenju sa takvom ljepotom da ću se odmah upisati u njegov fan club ako kojim slučajem postoji. ¨Treniram puno¨, kaže Giovanni,¨ jer vjerujem u rad. Da bi se u ovom sportu došlo do rezultata treba se truditi.¨
Bio je drugi na Svjetskom prvenstvu u Južnoj Africi, pobjednik je poslijednjih pet Evropskih Kupova u Francuskoj, Švicarskoj, Italiji, Austriji i Njemačkoj.
Pitam ga koja mu je najdraža zemlja od svih ovih u kojima je bio na što slijedi blagi osmijeh ¨nadam se da će to biti upravo ova¨.
Mejrema Reuter